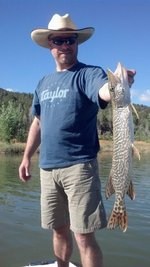 "There is nothing in this world that compares to education's ability to unlock the enormous potential in every human being. Education reaches out its hand; a person just needs to grasp the opportunity it offers."
--J. Cowan
Mr. Cowan has a 30-year history in elementary through adult education in various fields. Mr. Cowan's interest in teaching began in 1987 at Sonlight Christian Camp where he taught outdoor education courses in archery, team-building and high ropes course to elementary through high school students. While serving in the Air Force, he became an instructor, continuing in the teaching career field. After separating from the active duty military, Mr. Cowan continued teaching by substituting in the San Luis Valley as he finished college.
Mr. Cowan completed his Bachelor's degree in 2000 and began teaching math and science in Dulce, New Mexico. While there, he also coached track, Science Fair, and Science Olympiad. He taught in the Dreams Program Online Academy in the evenings working with elementary through high school students in intervention courses. That summer he taught elementary students in a Migrant ELL program in Center, CO.
The next school year, he began teaching at Pagosa Springs Intermediate School, establishing the technology program for upper elementary students as well as teaching reading in the sixth grade. He also coached football and wrestling at the junior high. In his second year in Pagosa, he transferred to PSJHS to teach Special Education. After teaching four years of Special Education courses, he returned to teaching science.
Along with his position at the elementary school, Mr. Cowan enjoys being involved in his community. After 25 years of service at Sonlight Christian Camp he retired this ministry on the Board of Directors in 2011. He now acts as an advisor to the board, serves as an Army Chaplain at the 2-135th Aviation Battalion in Denver, travels the state hosting marriage and family seminars and teaching elementary through high school age children the
Seven Habits for Highly Effective Families
. His military career spans four decades and he hopes for a fifth. He also enjoys playing lead guitar at Centerpoint Church and has released original music on iTunes and Amazon.
EDUCATION
BA Biological Sciences (minor in Secondary Education), 2000 Adams State University
MA in Education
K-12 Special Education, 2003, Adams State University
K-12 Educational Leadership, 2004 Adams State University
MDiv (Theology and Chaplaincy), 2011, Liberty Theological Seminary
Captain's Career Course, 2017, U.S. Army Chaplain Center & U.S. Army War College


TEACHING/COACHING
Outdoor Education (Elementary through HS, 1987-2011)
Air Force Instructor (Adult Education, 1993-94)
Substitute Teaching (Elementary through HS, 1996-00)
Pre-Algebra and Life Science (Middle School, 2000-01)
Science Olympiad and Science Fair (Elementary through High School, 2000-01)
Elementary Reading, Technology (Upper Elementary, 2001-02)
Special Education Language Arts, Math, and Reading (Middle School, 2002-06)
Life Science, Guitar (Middle School, 2006-10)


ADMINISTRATION/OTHER
PSES Principal (2015-present)
PSMS Assistant Principal and Athletic Director (2008-2015)
Archuleta SD Aimsweb Manager/RtI Coordinator (2001-2004)
Sonlight Adventures, Inc. Board of Directors (1987-2011)
Music Minister, Centerpoint Church (2000-present)
Air Force NCO/Instructor (1988-2000)
Army Staff Officer and Chaplain, (2008-present)


LICENSURE/CERTIFICATION
K-12 Principal
K-12 Special Education
Secondary Science
P.R.E.P. Marriage Counseling
P.I.C.K. Marriage Counseling
L.I.N.K.S. Marriage Counseling
Fearless Marriage Counseling
Army Family Wellness Counseling
1997 Big Game Elk and Deer (unfilled)


MR. COWAN'S FAVORITES
Book: Poisonwood Bible by Barbara Kingsolver, Pilgrim's Progress by John Bunyan, A Confederacy of Dunces by John Kennedy Toole and anything by C.S. Lewis or Kurt Vonnegut
Food: Crawfish Etouffee or Crawfish Enchiladas w/Dirty Rice and Corn Macque Cheaux
Bands: New Grass Revival and Petra
Top 5 Sitcoms: Seinfeld, Mash, All in the Family, The Andy Griffith Show, and Sanford and Son
Hobbies: Guitar, Songwriting/Recording, Luthiery, Oil Painting, Archery Hunting and paying too much for shoes that never fit when he gets them home